ECOKNIT® THE MOST TECHNICALLY ADVANCED, ENERGY EFFICIENT, COTTON TERRY TOWEL IN THE WORLD TODAY.
ECOKNIT TECHNOLOGY SAVES ON LAUNDRY COSTS AND TIME, HELPS THE ENVIRONMENT AND IS GUARANTEED TO SAVE YOU MONEY.
---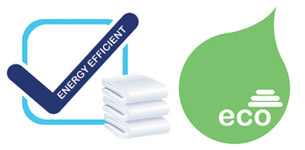 EcoKnit® snag free quick drying towels are the most technically advanced energy efficient terry towels in the world, they are guaranteed to save you money and increase your laundry capacity.
Thanks for visiting our website, and taking the first step towards a greener business and lower laundry costs.
Whether you run a small hotel or large commercial laundry, we can guarantee you'll save money by switching to EcoKnit® towels. In fact, the savings you'll make on water and energy mean you'll soon recoup the initial cost.
These savings mean EcoKnit® have the lowest laundering costs of any cotton towel available.
This product has a 100% soft Ring Spun cotton pile.
EcoKnit® Better for the environment, better for business.
Use 40% less energy
Saving laundry costs and reducing dependence on a non-renewable resources.
Require 15% less water
Use less water per wash for huge long-term savings.
Lower carbon emissions
Reduce your carbon footprint and show you're making a positive change.
Use less detergents
Cut down on harsh chemicals in every wash cycle.
Last 2-3 times longer
Towels look and feel good for much longer so you can replace less often.
What can EcoKnit® do for you? - THE BENEFITS
First and foremost we guarantee EcoKnit™ towels will save you money! secondly we believe EcoKnit™ to be "the most technically advanced, energy efficient terry towel in the world today! " globally there is no other towel that has the drying capabilities and advantages that the EcoKnit™ towel currently has, fact!
Laundries can't live on price alone. Determining a product's true value requires a focus on quality and processing costs too. (Textile Rental Magazine)
What EcoKnit® can do for your business and its guests?
Commercial Laundries
EcoKnit® technology has the potential to transform the way you do business – reducing energy consumption by up to 40% and water use by around 15%.
Towels are dry and ready to use much quicker, increasing your laundry capacity without the need to invest in additional dryers. They also last two to three times longer than traditional terry towels, so need replacing less often.
The product pays for itself through energy and water savings, giving you the lowest laundering cost of any cotton towel available.
The reduction in carbon emissions could also allow you to benefit from Climate Change Agreement rebates in electric and gas rates.
Hotels
If you have your own laundry on site, you'll experience the same benefits as commercial laundries with up to 40% reduction in energy and 15% in water. You'll also be able to reduce your stock due to the faster turnaround time from laundry to bathroom.
There are benefits for your brand too. By using EcoKnit® you're setting a great example and showing your guests you care about environmental issues.
Guests
Guests will love the luxurious feel of the product and can often be encouraged to use towels twice and therefore help in preserving the environment.
The towels dry quickly and we recommend you ask your guests to re-use them if they're happy to do so. Millions of towels are laundered each day throughout the world producing vast amounts of carbon dioxide, this small change could make a huge difference to the hospitality industry as a whole.